British artist maps his way to the heart of Taipei

▲Part of an extremely detailed Taipei map created by British artist Tom Parker.

If a hand-drawn map can showcase a city's spirit, then the one created by British artist Tom Parker shows Taipei as a city brimming with color, energy and humor, reminding many people what they love about this place they call home.

"Compared to somewhere like London, where I would be exhausted by the urban chaos after a 30 minute walk -- Taipei is exciting and interesting, but scattered with history and peaceful places," said the 46-year-old from Wales.

In his delicate drawings that almost resemble children's book "Where's Wally?" viewers can find themselves amazed - by the pangolins near Baishihu Suspension Bridge in Neihu, or by the renowned "Pokemon Go Grandpa," who made international news headlines for using up to 64 smartphones at a time to play Pokemon Go.



▲Can you find the Pokemon Grandpa?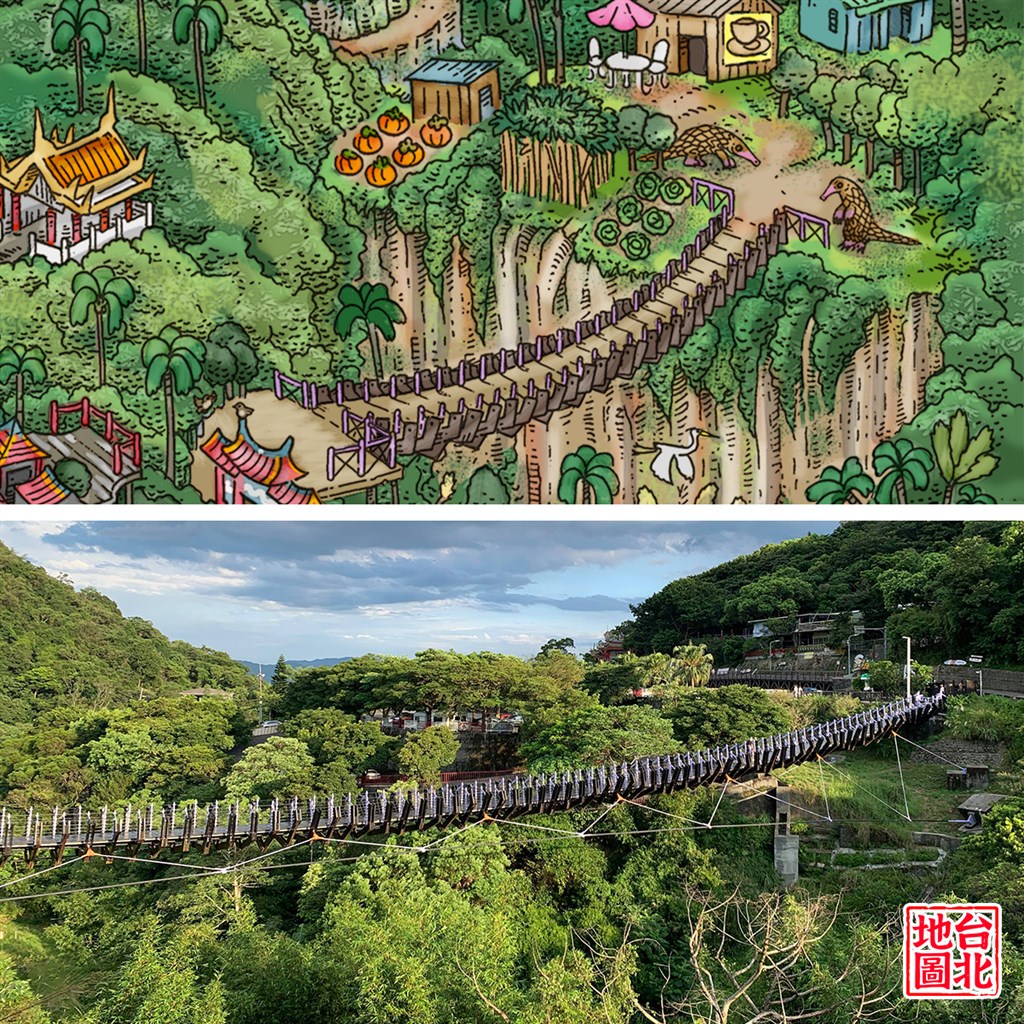 ▲The Baishihu Suspension Bridge

Quintessential Taiwanese
"When I decided to add some scooters and vehicles, I couldn't resist putting him in," Parker told CNA. "Someone told me he was in the wrong place, but Pokemon Grandpa goes everywhere."

Parker's maze-like map, which took him a year to complete, went viral online after it was first introduced on his Facebook page last December.

People immediately marveled at the professional skill demonstrated in the drawing, particularly given that Parker did not start his career as an illustrator until 2014, after working as a chef in the UK.

As for Parker, he was also overwhelmed with the level of support, and the project was soon turned into a jigsaw puzzle, which hit the shelves in June.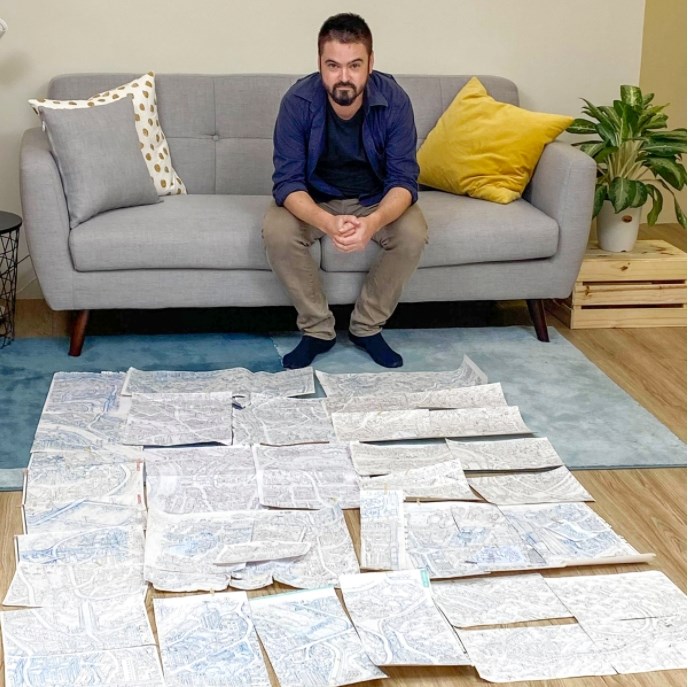 ▲British artist Tom Parker.

"I started it because it felt like a good idea. I didn't quite have a real grasp of the scale of it until I had done maybe one-eighth and realized I needed to buy a lot more pens and paper," Parker recalled of the project that started in late 2019.

Instant splash
In July, the Taipei map made its debut on a fundraising platform for further commercialization -- posters, stickers and notebooks - and in just a week raised NT$1.5 million (US$53,400), well above the original goal of NT$50,000 by the end of August.

While people are drawn to the intricate map that looks like a fantasy world, the creation process required much methodology, Parker said.

The time used for research and other preparatory work was in fact double that used to draw the map, he said.

"I took the whole area of Taipei I wanted from an online map, and printed it out, then drew a grid over it so each rectangle in the grid could be drawn out on a sheet of paper," according to Parker, who came to Taiwan seven years ago and became a resident after marrying his Taiwanese wife in 2018.

With the help of other materials such as satellite data and field notes from in person visits, Parker identified not only landmarks but also local features that make people smile knowingly.

Fresh perspectives
For instance, the tombs often seen cluttered on the hillsides of Taiwan were turned into lovely spots that remind people of these "different kind of Taipei residents," Parker said.

"It's quite amazing to see the whole hillsides covered in individually carefully constructed tombs," he said. "It's quite a beautiful thing."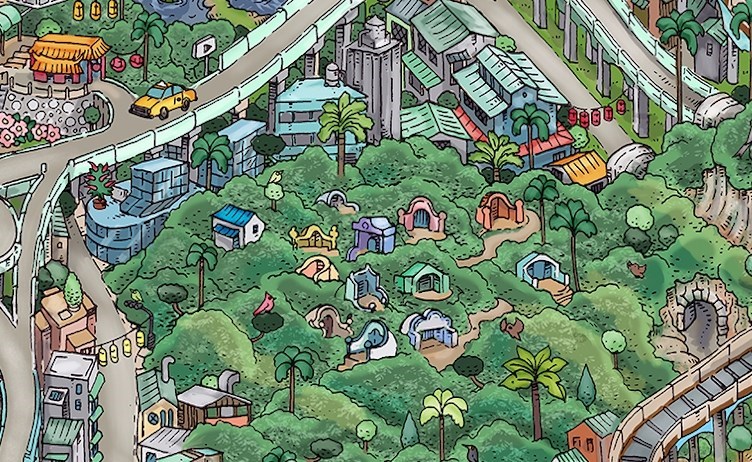 ▲Tombs often seen cluttered on the hillsides of Taiwan were turned into lovely spots in the Taipei map.

But it was not easy to fit everything in, said Parker, who produced more than 20 A4-size manuscripts, each one taking more than half a month to complete.

While he made sure most of the main roads and MRT stations were in the picture, Parker said, he had to make them minimal.

"No six lane freeways, and only single track MRT!" he said, adding that he also eliminated most schools and hospitals.

Some buildings were given a larger "footprint" for detail, while others had to be carefully arranged so they faced the viewers without sacrificing much accuracy in terms of placement, Parker said.

The individual sheets were then scanned back together in Photoshop, where an aerial view -- which went from Neihu in the east, to Wanhua in the west, Maokong in the south and Beitou in the north -- was finalized.

Then came the most challenging part of the project -- coloring.

Extreme details
Parker said he originally tried to be sensible about it and do all of one color digitally before moving to the next one, but soon found that did not work.

"It's just so vast and my brain needs to be occupied all the time, so I just couldn't do it in such a repetitive manner," he said, adding that he had to go back to the grid system and do the coloring one block at a time.



▲Coloring was the most challenging part, Parker said.

But the hard work was rewarding.

"It's surprising how much I've learned about things in Taipei," Parker said, pointing out that one of the findings was how green Taipei is.

"Taipei is surprisingly green. Obviously the mountains are, but even in the city, many streets are lined with trees," he said.

The maze runner
Parker's ambition did not stop when he finished the Taipei map. On the contrary, he said, he has started mapping another city - Tainan in southern Taiwan.

"It would be nice to have them as a collection and to view each city as very much part of Taiwan, but different," Parker said, adding that he is considering using different color tones for each city so they stand out.

Parker said he has enjoyed the creative journey and has been taken aback by Taiwanese people's appreciation for artwork or creative projects that are about the land.

"For me, as this is now my home, I can view Taiwan as a visitor, but also as someone who wants to feel at home," he said. "It's still quite new for me, but already familiar."




Press Release From Focus Taiwan