Taiwan's Ministry of Education and the British Office Taipei Sign Letter of Intent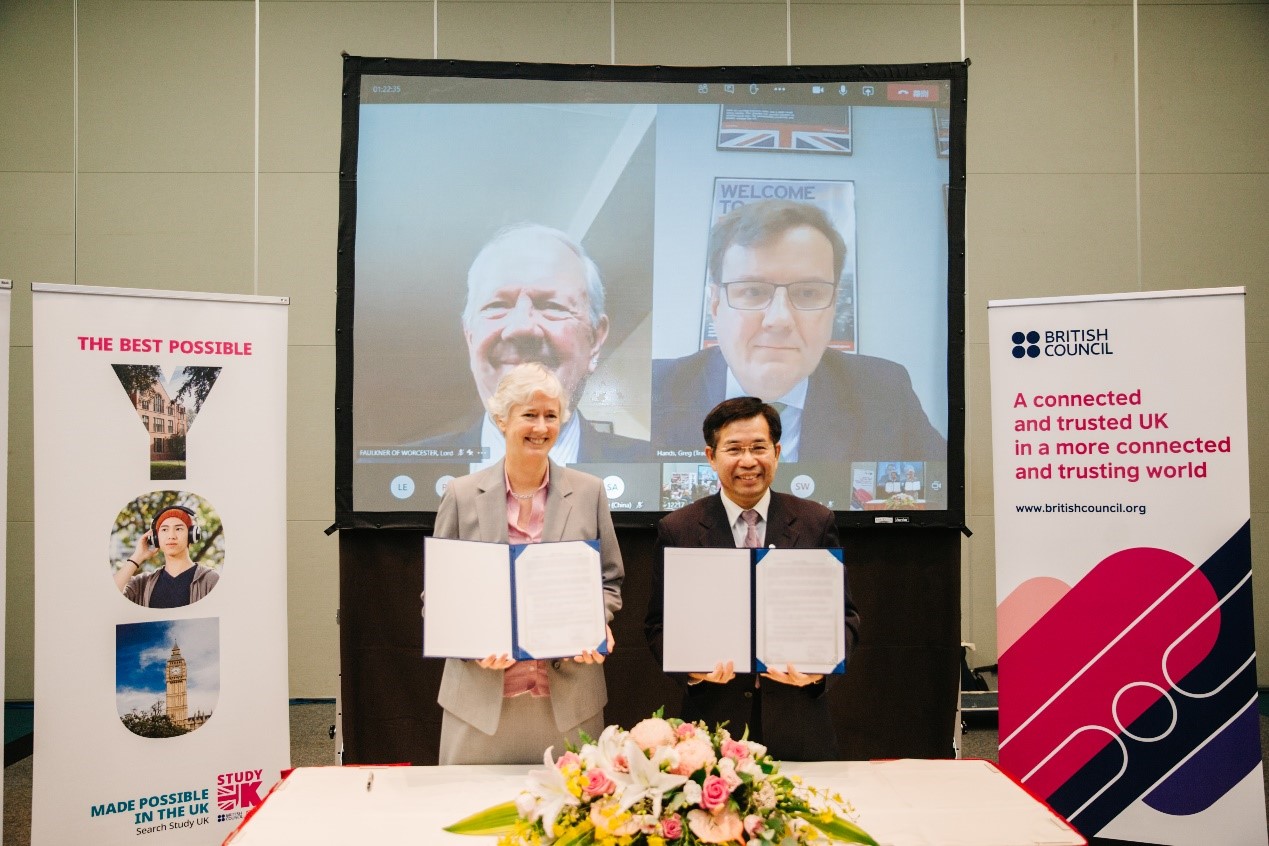 The Ministry of Education and the British Office Taipei have a long- standing, friendly relationship of cooperation and collaboration and they now intend to work together with a specific focus on English language teaching, learning and assessment, in the areas of higher education and basic education. Minister of Education Pan Wen-Chung and Representative Catherine Nettleton, from the British Office Taipei, signed a Letter of Intent at a ceremony on October 21, to further English language education related cooperation between Taiwan and the United Kingdom in support of Taiwan's ambition to become a bilingual nation.
Kelly Hsieh, Representative at the Taipei Representative Office in the U.K., the right honorable Greg Hands, U.K. Minister of State for Trade Policy, and Lord Faulkner of Worcester, the U.K.'s Trade Envoy to Taiwan all took part in the ceremony remotely from the United Kingdom. Greg Hands said he was pleased that the U.K. will be able to offer assistance in English learning to Taiwan as it pursues its goal of becoming a bilingual nation by 2030.
Minister Pan said that educational cooperation between Taiwan and the United Kingdom has continued to develop rapidly, and the Ministry is dedicated to engaging in such educational cooperation to further develop our respective academic and research systems, and to enhance students' ability to respond to the challenges of globalization.
The Ministry of Education is working to implement full-scale bilingualization of Taiwan's educational system, and train and educate highly-skilled bilingual citizens "to bring Taiwan to the world", in conjunction with the Executive
Yuan's Blueprint for Developing Taiwan into a Bilingual Nation by 2030. The five key strategies to achieve this goal are:
1. To adopt a dynamic teaching approach with a focus on daily English use.
2. To expand the human resources required for English education.
3. To make effective use of digital technology and promote individualized learning.
4. To accelerate internationalization of the educational system. 
5. To relax current regulations to allow for flexible mechanisms.
The Ministry is looking forward to working with the British Council to enhance Taiwan's English language teaching, learning and assessment.




https://english.moe.gov.tw/cp-117-24252-48e27-1.html