Study And Work in Taiwan: MOE Holds Employment Lectures to Encourage Foreign Students to Work in Taiwan After Graduation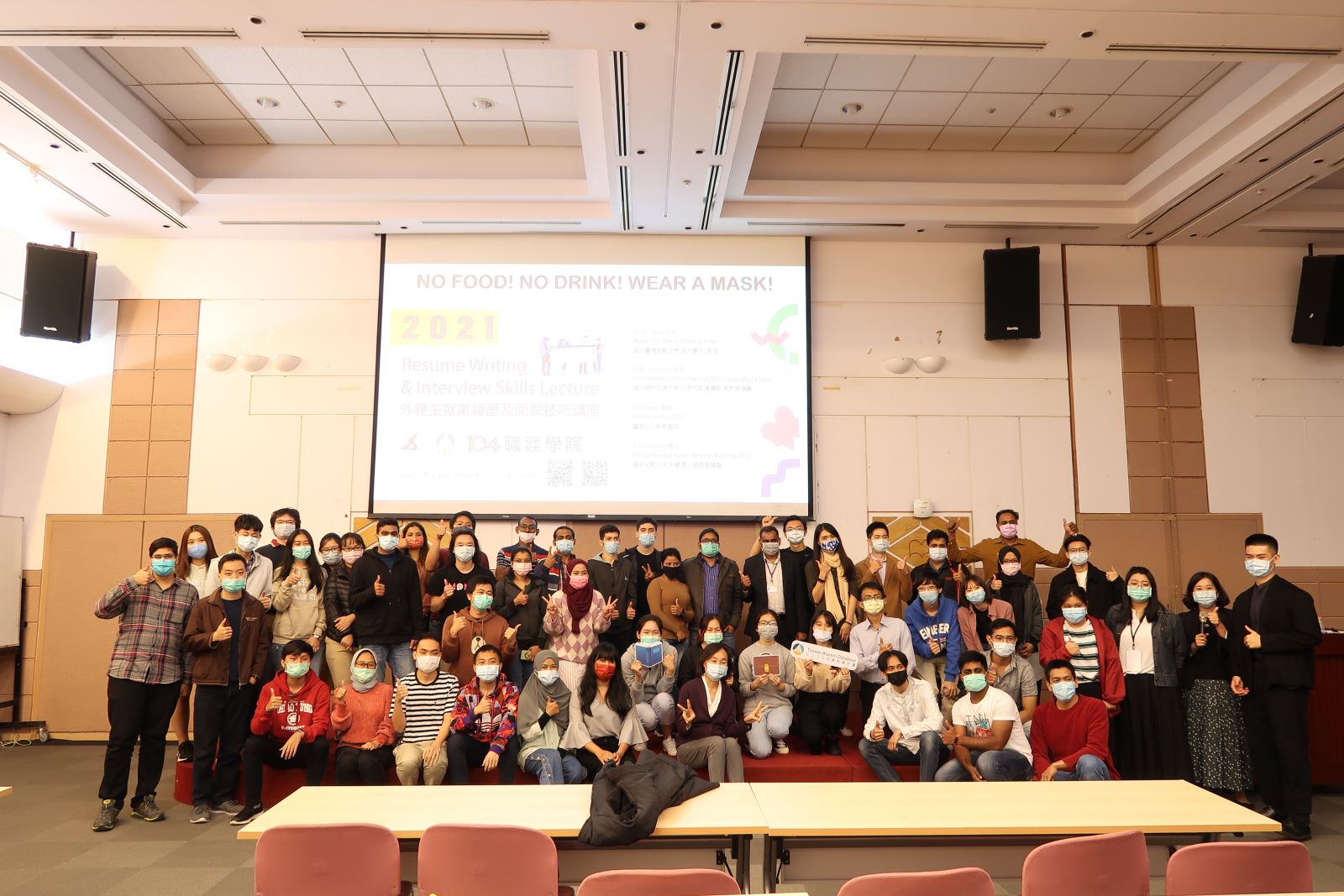 ▲2021 Resume Writing & Interview Skills Lecture in Hsinchu
To retain foreign talents studying in Taiwan and encourage them to apply what they have learned in work, the Ministry of Education (MOE) has held four Resume Writing & Interview Skills Lectures in Northern, Central, and Southern Taiwan respectively from Feb. 19 to Mar. 8 this year. The lectures were popular, attracting more than 300 foreign students and teachers from more than 70 universities/colleges in total.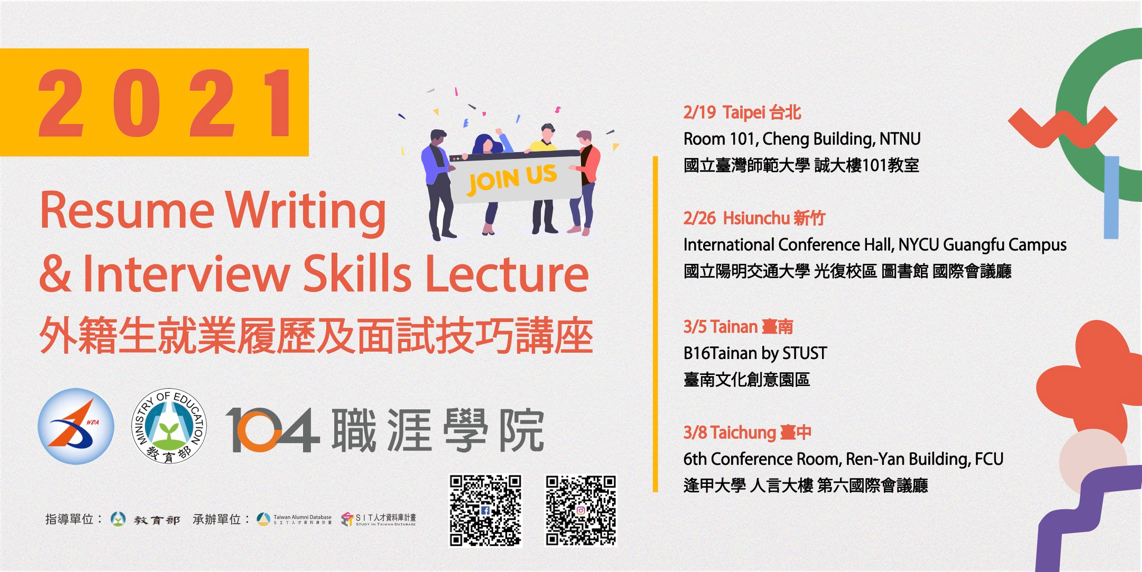 ▲Poster/Key Vision of the Lecture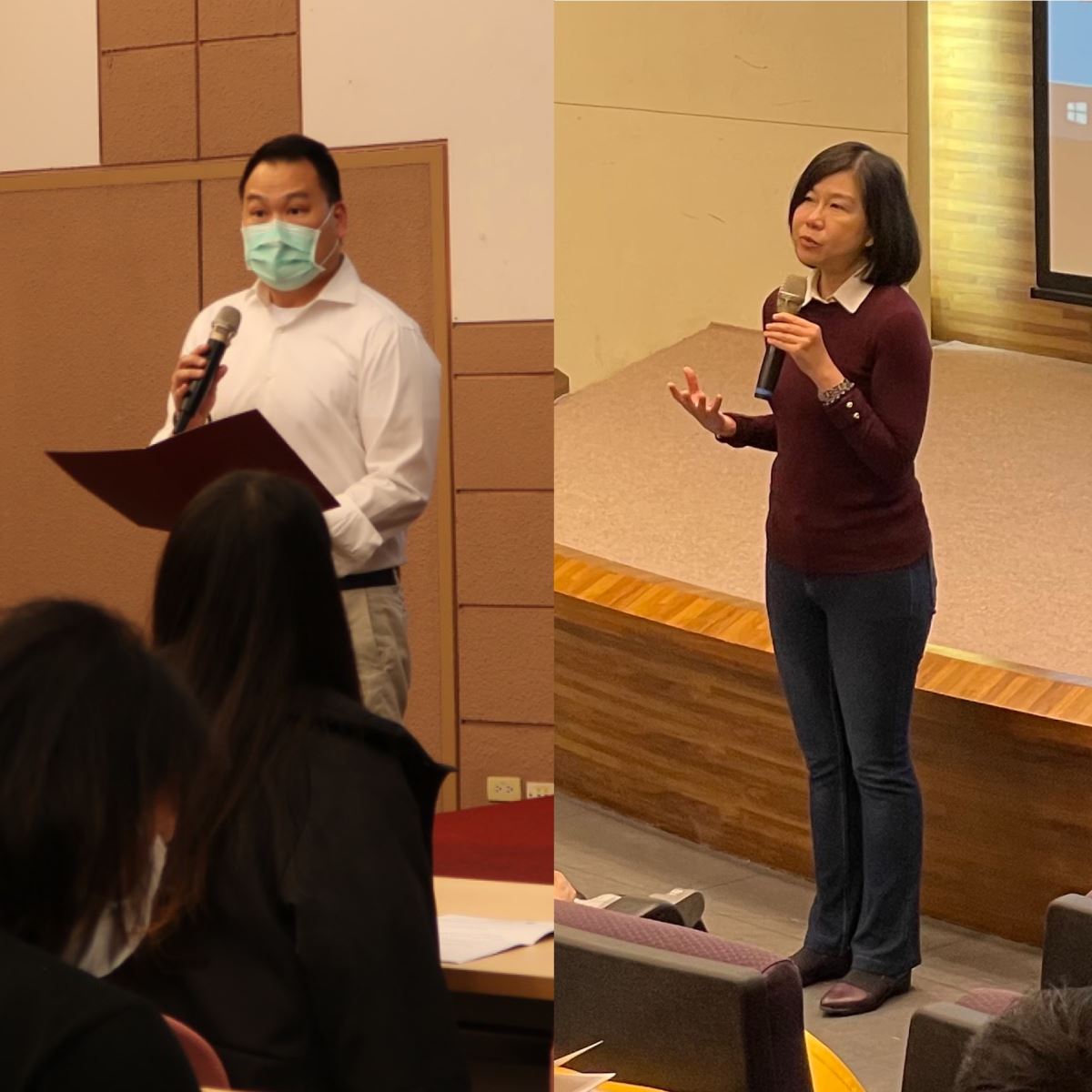 ▲Principal Investigator-Professor Liao, Pei-An (Left) and Co-Principal Investigator Professor Chen, Chia-Yu (Right)
The 2021 Resume Writing & Interview Skills Lectures took place at NTNU on Feb. 19th, NYCU-Guangfu Campus on Feb. 26th, B16Tainan by STUST on Mar. 5th, and FCU on Mar. 8th. In line with the Crucial Policies for Combating Covid-19, the lectures have been trimmed in scale and broadcasted through online live streaming, allowing foreign students who could not show up to participate without space restrictions.


▲2021 Resume Writing & Interview Skills Lecture in Taipei
The representative of the Workforce Development Agency from the Ministry of Labor was invited to introduce the "New Scoring Criteria for International and Overseas Chinese Students to Work in Taiwan" and relevant visa application considerations. A lecturer from the Career Academy of 104 Corporation also came to share practical resume writing and interview skills for fresh graduates, introducing the workplace culture of Taiwan and familiarizing foreign students with our employment environment.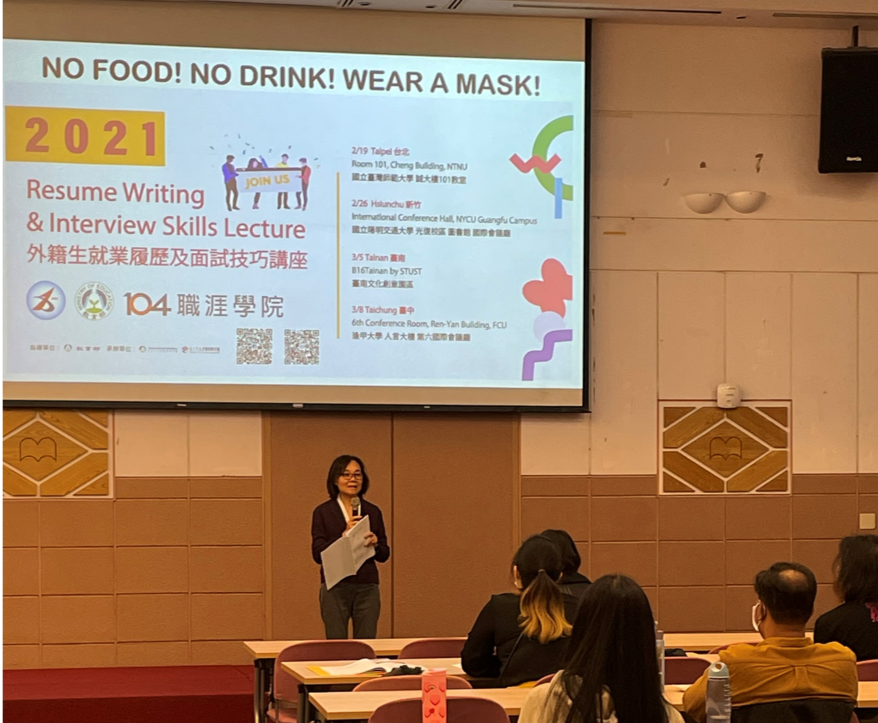 ▲Professor Tseng, 
Yen-Fen from the Department of Sociology, NTU
The lecture invited Professor Yen-Fen Tseng from the Department of Sociology of NTU, to share her long-term research results on the transnational labor force as well as troubleshooting for foreigner's life and working conditions in Taiwan, hoping that students who intend to stay in Taiwan for work could be mentally prepared after the lecture. There are also six alumni from Malaysia, India, Indonesia, and Japan sharing their respective experiences in studying and job seeking in Taiwan at the end of each lecture.

▲(From Left to Right) Grayson Woon, Chai-Ron Bay, Paul Jendra, Mohammad Rameez, Isaac Yong, Shun Shimada.
Grayson Woon worked as an administrative teacher at USC and the front desk agent of the National Theater & Concert Hall after graduation from the Chinese Music Department at NTUA, and he is currently back to university to continue his studies in the Graduate Institute of Ethnomusicology at NTNU. Chai-Yong Bay, an alumnus of NTPU who has graduated in recent years, took the perspective of the new blood and shared his personal experience and the preparations needed for the graduating students.

Mohammad Rameez, an alumnus of the Ph.D. program of NCTU (now NYCU) from India, gears his study to practical use after graduation and is currently working at the Academia Sinica in the research field related to solar energy, batteries, and chemical engineering. Paul Jendra, from Indonesia, is also an alumnus of NCTU. After graduation, he has gone through the transition stage of job hunting and further studies. Now working as a graphic designer at DELL Inc., Paul successfully obtained a permanent residence permit, setting an exemplary case of staying in Taiwan. 

Shun Shimada, a Japanese alumnus of STUST, came to Taiwan to study for a master's degree. After graduation and years of working experience in Taiwanese corporations, Shimada chose to start a business to promote the local customs of Japan. Isaac Yong graduated from FJCU. He enjoys quite a reputation for his MIT club and the Canaan Project, in which he successfully connects Malaysians and even Southeast Asianin Taiwan.

Due to the promotion of the internationalization of higher education and foreign students studying in Taiwan by the MOE, the number of overseas students in Taiwan has been increasing year by year lately. Considering both the pandemic fighting policies and foreign students' right to education, the MOE encouraged universities and colleges to provide overseas students with "Safe Education" measures, so that foreign students could come to Taiwan in a safe and orderly manner under the prerequisite of pandemic prevention. As a result, the recruitment of overseas students still continued despite the restrictions on international movement during the pandemic. According to MOE's statistics, the number of foreign and overseas Chinese (including Hong Kong and Macau) students in the 109 academic year was 56,355, with an increase of 1,178 students from 55,177 in the 108 academic year. Therefore, to assist the vast number of foreign students in their life and employment after graduation, the MOE has established several counseling mechanisms to provide students who have left their hometowns with a wonderful, fulfilling life in Taiwan.

The Taiwan Alumni Database Program (TAD) was launched by the Ministry of Education in 2018 to strengthen the connections among foreign alumni staying in Taiwan. Committed to gathering foreign graduates and alumni to join the database, the TAD office regularly organized related counseling activities, published English e-news, and provided domestic recruitment information. It is hoped that these foreign talents who are familiar with the cultures of both Taiwan and their home country can have great career development in Taiwan and become an important resource for the government's domestic and global strategy so that Taiwan can gain an international outlook and be seen by the world.
Press Releases from MoE